Hotel Kintetsu Kyoto Station is a reasonably priced, no-frills type of business hotel with clean, comfortable rooms in a very handy location. The hotel is located within the Kyoto Station building itself and so is super convenient for both Kintetsu Kyoto Station and for the shinkansen lines.
The entrance is on the south side of the station and opens out onto the shopping malls and dining areas of Asty and Miyako Michi. The hotel is also well placed for local attractions. UNESCO World Heritage Site Toji Temple is a short walk away, and a day trip to Nara is easily done via the nearby Kintetsu rail lines. If you wish to travel further afield you are literally 30 seconds away from a bullet train ride to any of Japan's major cities.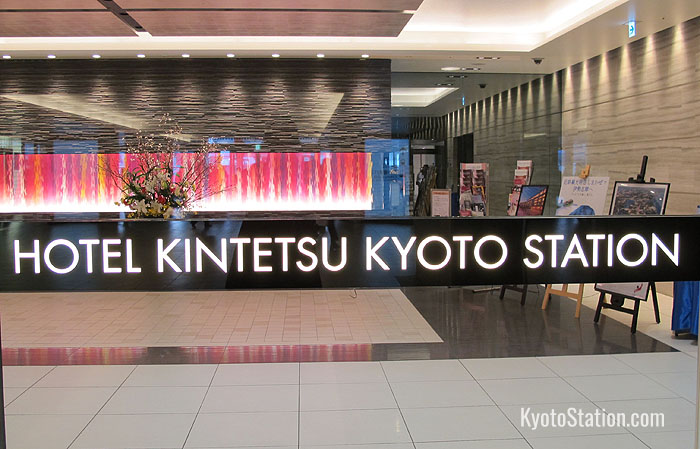 Check Rates and Availability
Hotel Kintetsu
Kyoto Station
Guest Rooms
The interior décor of the guest rooms is a simple western style, with comfortable beds and carpeted floors. Twins, doubles, triples and deluxe rooms are available. The rooms are above the station, so if you are a train buff, you might want to ask for a room overlooking the tracks. Then you can enjoy watching the shinkansen bullet trains arriving and departing, without any worry about noise because the rooms are perfectly sound-proofed.
All rooms come with an air conditioner, a humidifier, a TV and satellite channels, a telephone, free Wi-Fi access, a refrigerator, a hair dryer, a trouser press, an iron, an electric kettle and tea set. Every guest room has its own bathroom with shower, bath tub, bidet toilet and a full set of complimentary toiletries.
Breakfast
There is a buffet style breakfast served in the hotel lounge on the first floor every morning from 6:30 – 10:00. The lounge is completely non-smoking. Breakfast costs 1300 yen and includes a variety of both western and Japanese style dishes. The lounge is spacious, seating 155 guests, and so you will not have to wait long to be served. Alternatively, if a buffet style breakfast does not suit, there are a range of dining options to choose from in the Asty and Miyako Michi shopping malls just outside the hotel entrance.
Other Facilities
Free Wi-Fi is available throughout the hotel and rental laptops are available from reception for 1000 yen per night.
The hotel has a baggage storage service which you can use both before you check in and after you check out. They also have a laundry service for an additional fee. If you bring your clothes to reception by 10:00 am then your clothes will be ready by 18:00.
There are drinks vending machines for both soft drinks and alcoholic beverages on every floor. You can also book an in-room massage for an additional fee.
Night Entrance
Because the hotel is located within the station building, the northern approach to the hotel will be closed from 23:45 till 5:00 am. During this time guests should enter the hotel from the southern side of the station building via the Hachijoguchi exit.
---
Article and original photos by Michael Lambe. All rights reserved.